HIABS FOR Hire: CPA AND CONTRACT LIFTING
We're Explore: a FORS Gold general and specialist lifting, transport and logistics supplier.
24/7 coverage. 7 depots nationwide. We work with a wide range of industries including construction,
rail and aerospace – and we offer the UK's most complete HIAB hire and contract lifting solutions.
Explore is the UK's fastest growing haulage and plant hire business. Working with us means working with a FORS Gold partner who cares about your safety, productivity and quality, with unrivalled 24/7 UK-wide support, seven depots nationwide, and constant investment into raising the standards of the industry. We're committed to undertaking CPA rules and regulations to deliver the perfect solution to all your lifting requirements.
FORS Gold Certified
Airside Insurance
Achilles Link-Up Approved
Specialised In-House PTS-Qualified Operatives
Wide Load Exemption Notices Across the UK
Complete Route Planning and Escort Vehicles
Detailed Pre-Delivery Risk Assessments, Method Statements and Lift Plans
ALLMI / CPCS Operators, Lorry Loaders, Slingers and Signallers Available
Trained Installation Teams Available
24/7 Coverage All Over the UK
Project Management Available from Start to Finish for all Lifting Requirements
Complete Delivery to and from Site
The Latest Remote-Controlled HIAB Units
Rigid HIABs, Wagon and Drag HIABs, Lowloader HIABs and Articulate HIABs Available
All Lifters Follow the Legal Requirements of BS7121 Part 4 and LOLER Current Standards
All Operatives Fully Qualified
Available for Airside in Aviation
Available for Track-Side on Railways
Complete Project Management Available for Any Project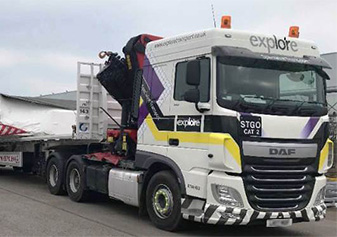 Our fully managed lifting logistics are accompanied by complete 24/7 support all across the UK.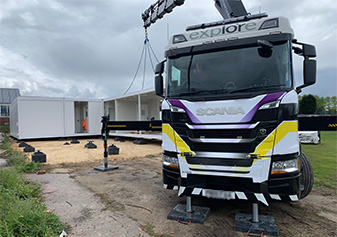 Our HIAB Division's equipment is the latest manufactured technology in the industry and is maintained to the highest standard. All lifting equipment is remote controlled and computerised with accompanying VSL (Variable Stability Legs), giving us 360° lifting capacity.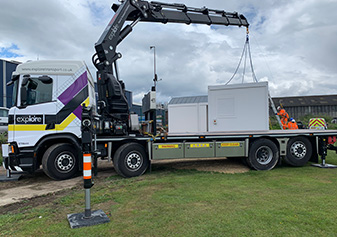 Place your contract lifting requirements in the safe hands of Explore's HIAB division with fully qualified and insured professionals. We can project manage any of your lifting requirements, with full site surveys and RAMs packages, allowing us to cover all client requirements.